TikeanDQ is a lightweight Data Quality solution, aimed for the business users and other data stakeholders in data-heavy companies. The more the data, bigger the benefit.

While the solution is cloud-native, we have put emphasis also the cloud-resource consumption, not using more than needed.

Check out of the features explained. Click or scroll down for more detailed features.
Reveals errors in the data
With a flexible rule creation, the users can define rules to point out good or bad data for Your business process execution.
The no-code editor requires no development nor deployments
and changes to data models and rules happens really quick.
Benefits
Speed up the business operations significantly by capturing data quality errors right in the beginning.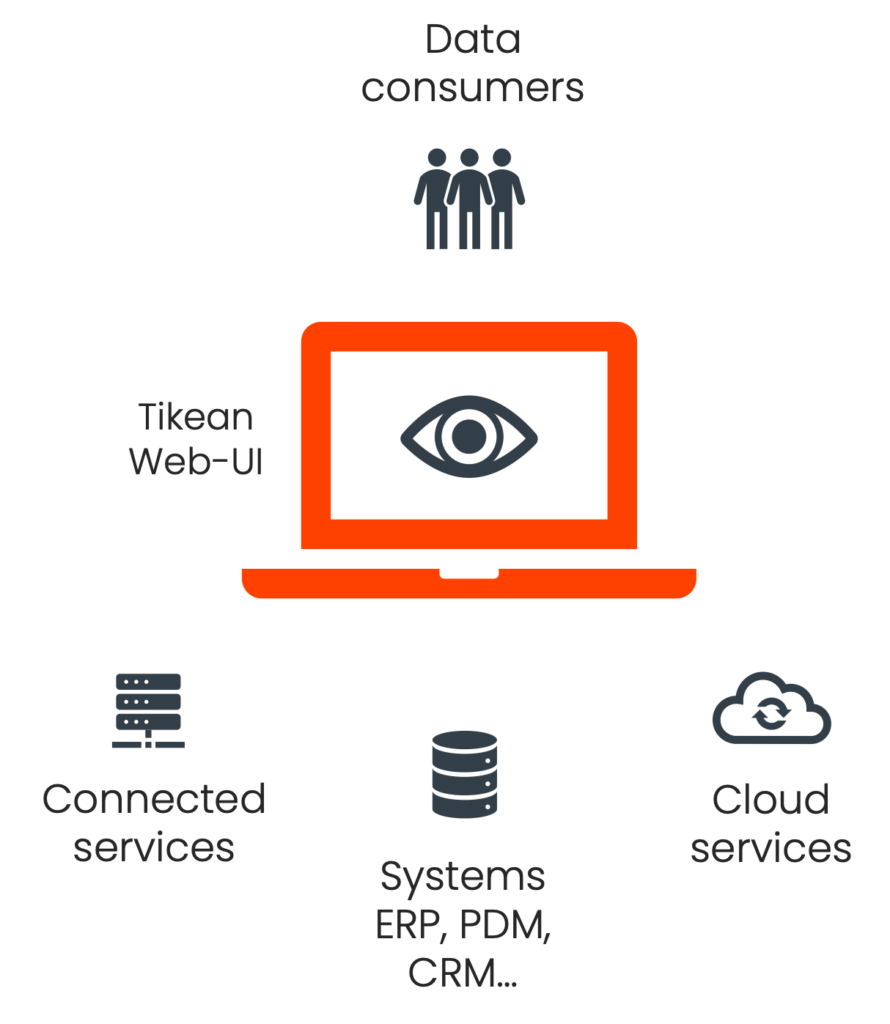 Provides visibility to the data across the systems
TikeanDQ brings the needed data from multiple origins into one view. The UI functionalities are superfast and makes the data search efficient and enjoyable.
Access, trust and share the essential data with flexible, re-usable functionalities.
TikeanDQ is easy to-use via normal web-browser.
No other SW installations needed.


Benefits
Find the data you need, ensure that it is in good shape, and execute the business with peace of mind.
Verifies the data consistency between the systems​
TikeanDQ shows the information from various sources into consolidated views and reports.
Speed up the business operations, 
No cross-system checks needed anymore.
Ensure data deployment success to downstream operations.
Minimize quality expenses due to mismatching or erroneous data.



Benefits
Ensure that the good quality data is consistent and same in all the business processes and systems. This capability is one of the biggest possibilities to streamline business processes.
Ensures correct data to the Business Processes
Users can create business process specific rulesets to monitor the data, essential for each business procedure or step to success.
TikeanDQ validates the correctness of the data according to user defined data rules.


Benefits
Make it certain that the business processes and procedures all have the needed data operable at the right time. No blockers, no interruptions, but instead solid and prompt execution.
Provides Data Quality Trends
TikeanDQ Dashboards is a feature to create and distribute dynamic data visualizations.
With the Dashboards you can:
Analyze Function or Business Unit performance
Follow if the personnel are playing by the book
Lead the Data Management Network work and progress in the Company
Use the TikeanDQ as reporting source for e.g. PowerBI and generate various purpose summary Dashboards. 


Benefits
Dashboards give you an instant insight to the status of the in-scope data, area, unit - whatever you are viewing. An essential tool for corporate performance management.
Essential features for
business data availability
and data governance
Versatile and configurable Solution is easy-to-use and fast to deploy into your ecosystem.
tikean DataQ UI functions
User Authorization & Management
Data ingestion and modelling
Search, Reporting and Sharing